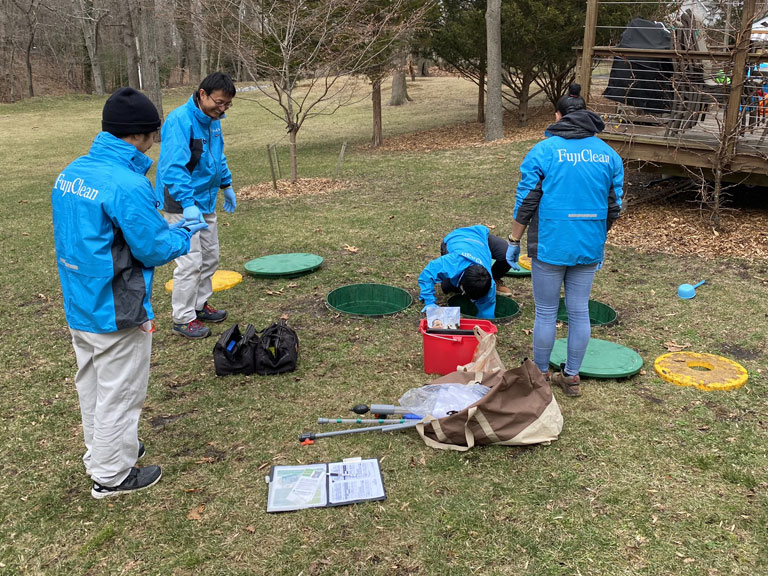 Suffolk County requires that all owners of I/A OWTS systems have an ongoing service agreement in place for the maintenance of their system. Fortunately, Fuji Clean's elegant design allows for simple, standardized operations and maintenance of the system. As a certified Fuji Clean service provider, AWS offers fast, affordable and worry-free service to all Fuji Clean owners.
Most I/A OWTS systems have motorized parts inside their tanks (blowers, pumps, agitators, etc.) that will eventually fail and can result in a costly and messy repair. Fuji Clean, on the other hand, has no internal moving parts and is powered entirely by a small, quiet, and energy efficient external air blower that makes system maintenance a breeze. These best-in-class blowers have a long life expectancy and are easy and affordable to repair or replace if necessary. With a track record of nearly 60 years, Fuji Clean has had the opportunity to perfect not only the functionality of its system, but the operations and maintenance procedure as well.
Thanks to our role as their exclusive Long Island distributor, AWS is an expert in all things Fuji Clean. Whereas most I/A OWTS maintenance providers must retain a working knowledge of all systems, AWS has the luxury of being Fuji Clean specialists that focus entirely on perfecting the maintenance process for our systems. We boast a team of trained and dedicated professionals that will provide scheduled maintenance to all systems twice a year and are available to respond to issues 24/7. With AWS, you can rest assured that your Fuji Clean system will be serviced and maintained properly, quickly, and affordably, and that we will be there if an issue ever arises.
---
Frequently Asked Questions About Operations and Maintenance
What does the standard Fuji Clean operations and maintenance service consist of?
AWS service professionals will perform two scheduled visits per year (at 6 month intervals). The standard service visits consist of cleaning the internal components, backwashing and degassing the system, measuring the sludge and scum levels, checking the blower air filter and replacing if necessary, and taking nitrogen/ammonia readings of the effluent to confirm system performance.
What happens if the alarm goes off on my Fuji Clean?
In the unlikely event that the alarm on your Fuji Clean begins to sound, please contact AWS or your certified Fuji Clean service provider and we will send a service professional out to remedy the situation immediately. In the meantime, you can silence the audible alarm by flipping the black switch on the side of your control panel to "Silent" mode.
What are the annual operating costs for a Fuji Clean wastewater treatment system?
For a typical Fuji Clean CEN 5 system (4 bedroom unit), the annual operating costs merely consist of the yearly operations and maintenance fee ($250) plus the cost associated with the system's electrical usage (approximately $65-85 per year).