Builders & Septic Installers in Suffolk County
Advanced Wastewater Solutions is always looking to work in collaboration with new partners. Whether you're a builder, developer, contractor, or excavator, we can help you get the best system for your clients' needs,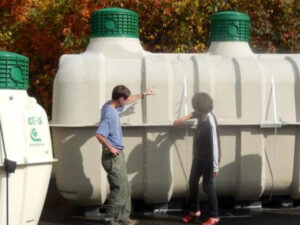 without breaking the bank.
AWS provides free delivery of the tank and all associated equipment to your job site, and we offer onsite installation assistance to ensure that each Fuji Clean tank performs to its maximum capability. We can help you navigate the entire septic upgrade process, and through our partnership with Bridgewater Environmental Services, can offer a concierge service to secure any available grant and rebate funding and handle all associated paperwork for your clients. Such funding is available for most construction projects, including renovations and event tear-downs/rebuilds.
Fuji Clean makes choosing the right I/A OWTS system easy on installers, as it couples simple installation with industry-leading nitrogen reduction technology and unparalleled reliability. With millions of systems installed worldwide since 1961, you can rest assured that Fuji Clean is a proven technology that will stand the test of time while continually providing the best wastewater treatment at the lowest cost. In short, Fuji Clean is the most popular system in the world for good reason: it offers the smallest footprint and lightest weight of any I/A OWTS system on the market; it does not require a preceding septic tank; and there are no internal pumps, agitators, or blowers to cause wiring headaches.
If you're looking to install your first Fuji Clean I/A OWTS system, contact AWS today to get certified as an installer and learn how we can help with your project!